About us
Autocamp "ADRIANA " u Tkonu na otoku Pašmanu smješten je oko 500 metara jugoistočno od trajektnog
pristaništa. Kamp se nalazi na 10 metara nadmorske visine i isto toliko daleko od mora, uz pješčanu plažu dužine
oko 2 km. Hladovinu kampa čine stoljetna stabla maslina, a rijetko mogući jaki vjetrovi ne utječu na ugodan boravak.
Kamp je opremljen novim sanitarnim uređajima (umivaonici, tuševi, WC školjke, praonici nogu, praonici rublja,
praonici suda,stol za peglanje rublja, električni priključci 220 V euro standard. Gosti prema potrebi mogu koristiti i
zajednički roštilj.
Zbog ograničenog kapaciteta (oko 50 osoba) potrebno je na vrijeme rezervirati mjesto.
Autocamp "ADRIANA " is situated on the island Pašman in a small fishing place, named Tkon.
It lies about 500 m southeast from the ferryboatport, 10 m above the sealevel and also near the long sandy beach.
The old silver-green olive trees make the favourable shade in the camp. Eventually strong winds that are rare do not
effect the pleasant stay. Camp is designed with new sanitary equipment (washbasin,showers,
toaletseats, sinks for clothes and dishes, ironing table, and electric connection 220 V).Guests can use the common grill.
It is nenecessary to reserve the place on time because of the limited capacity (about 50 person.).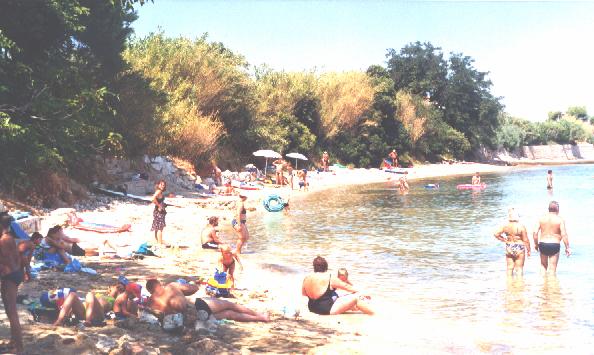 Das Autokamp "ADRIANA " in Tkon auf der Insel Pašman befindet sich 500 m siidostlich vom Hafen.
Das Kamp liegt auf 10 m Seehohe und genauso weit vom Strand entfernt, der etwa 2 km lang ist. Hundertjahrige
Olivenbaume machen einen sehonen Schatten, um die Mittagssonne unter ihnen zu geniessen. Das Kamp ist neu
gebaut und ausgestattet mit Waschbecken, Dusche, Fussbad und WC, Becken zum Geschirr-und Waeschewaschen,
sowie Buegelbrett,Stromanschluss mit 220 V. Gaste konnen auch den gemeinsamen
Grill venvenden. Wegen begrenzter Kapazitaten (fiir 50 Personen) ist eine rechtzeitige Reservierungnotwendig.

L'autocampeggio "ADRIANA" a Tkon sull'isola di Pasman si trova al sud-est dell'approdo-traghetto.
II campeggio e sistemato 10 m dal mare lungo la spiaggia sabbiosa, lunga 2 km. L'ombra fanno gli ulivi centenari e i rari
venti forti non sconvolgono il piacevole soggiomo. L'autocampeggio e fornito di nuovi impianti igienici (lavandini,
gabinetti privati,vasca-piedi, lavello-vestiti, lavello-stoviglie tavoli da stirare, imprese-corrente 220 V).
Gli ospiti possono servirsi di griglia comune. Per la capacita limitata (per circa 50 persone) bisogno prenotare in tempo.